Family Caregiver Support
As part of the National Family Caregiver Support Program, under the Older Americans Act, the Riverside County Office on Aging provides support to family caregivers who are caring for or helping an older relative and can assist in coordinating services to help family members maintain their caregiving roles.
The National Family Caregiver Support Program identifies gaps in services and provides Riverside County Office on Aging with a foundation to develop programs, in collaboration with other agencies, to help family caregivers cope with the many demands of caring for relatives. There are no income requirements to participate in the program.
Call (877) 932-4100 for more information and to sign up.
Image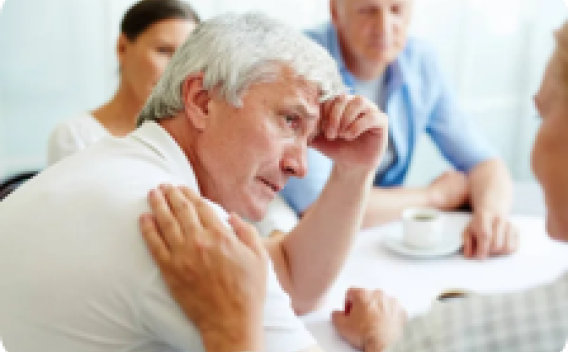 Care Pathways Workshops Are Underway!
A winner of the 2019 RivCo Innovates CEO Award, the Care Pathways program offers a wide array of resources for family caregivers through workshops and other support services. 
To register and for up to date information on current programming, call us at (877) 932-4100 or complete the contact form at the bottom of this page.
Family Caregiver Programs Overview
Care Pathways
Care Pathways A free educational and supportive 11 week workshop series is available for family caregivers to learn about different topics related to caregiving such as: dementia; Alzheimer's; caregiver burnout; legal issues related to caregiving; communication; and other relevant topics. Workshops are offered throughout the county of Riverside to individuals caring for a family member 60 years or older. Respite care can be arranged for the care recipient (dependent on funding). Caregivers must register for the workshop before attending. Workshops are also offered in Spanish. To have an Office on Aging representative contact you with more information, please call (877) 932-4100.
Grandparents Raising Grandchildren
Grandparents Raising Grandchildren (GRG) program provides emotional and practical support as you face the challenges of parenting again. This support is provided by a team of caring professionals who will help you find the tools to be successful. As part of the GRG program, we offer support groups which provide an opportunity to socialize, share information, learn new skills, and receive peer support. For those families facing complex issues, the GRG program provides person-centered support to grandparents. Our trained staff will help you access community services and advocate with you as needed.
Case Management
Information, support and coaching services are delivered by telephone and compliment the Care Consultation program. If a need is identified, caregivers may request an in-home assessment from a social worker who assists in developing a care plan and connecting families to community resources, while providing support and coaching. Regular monitoring and the connection developed with the social work staff helps ensure the care plan goals can be met.
Support Groups
Monthly support groups are offered throughout the county of Riverside at different times and different locations. In these groups, caregivers get an opportunity to meet others in similar situations and help support one another with the assistance of a trained facilitator.
Balancing Work and Elder Care
Throughout the Care Pathways workshop series, we discuss different topics pertinent to the family caregiving and balancing other responsibilities. You do not have to be the primary caregiver to benefit from the information, support and resources. Workshops are held in convenient locations throughout Riverside County in the evening.
S.T.A.R. Support, Training, and Retention
Educational workshops are provided throughout the county of Riverside specifically for In-home Supportive Services (IHSS)/Public Authority (PA) caregivers to enhance their understanding of the older adult population and provide information, skills training, mentoring and support.
Contact Caregiver Support Staff